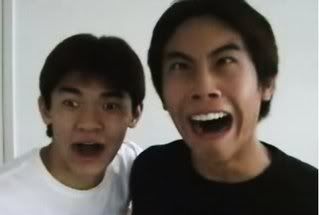 Maybe Ryan's crying because he misses Sean Fujiyoshi
written by: Mr. APA
Ryan Higa has come up to a new awesome level. He's made his 2nd Far East Movement parody and this one is based off of Rocketeer! I know we have a lot of Far East Movement fans here so check it out! This video also features KevJumba and ARDEN CHO!!
This video is actually being released on both KevJumba's and Ryan Higa's channel. I think this is pretty awesome because it takes these YouTube collaborations to a new level. In the past, a collab would be a rare gift but these days, Ryan Higa, Wong Fu, and KevJumba (and Arden Cho for that matter) seem to be working together non stop. This is awesome because we are entering a new generation of Asians on Youtube and who knows, maybe a Hollywood exec will finally realize that the millions of fans that Ryan Higa has, will actually watch him on TV!
So here's to Ryan, and Kev, keep working together so I can see you on a slightly bigger screen than the youtube one!
Also this video is... That's right. Certified Awesome. (having Arden Cho in any video certifies it awesome)